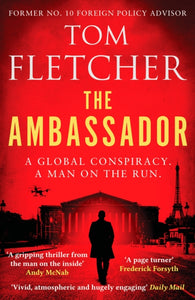 The Ambassador : A gripping international thriller
£999

£9.99
Tax included.
Shipping
calculated at checkout.
---
---
David Cameron. A global conspiracy. A man on the run.

What happens when diplomacy fails? An unputdownable thriller, written with unique insight into the highest levels of diplomacy. From the former ambassador and No.10 foreign policy advisor Tom Fletcher, an urgent 21st-century thriller. In the aftermath of a global pandemic, a beautiful and charismatic human rights activist is murdered, live on the internet, at the British Embassy in Paris.

It is a mystery that no one wants solved. But, when governments refuse to investigate, Ambassador Ed Barnes is determined to find out the truth himself. The quest for answers plunges Barnes into a world of cyber terrorists and warlords, taking him to Oxford, Copenhagen, the mountains of Snowdonia and Lebanon, where he picks up the trail of a shocking conspiracy.

This is an international crisis - but also a personal one. Only Barnes can save his family, his diplomatic service and even his country. But can he save himself?
Author :  Tom Fletcher
Paperback : 320 pages 
Published: 4 May 2023