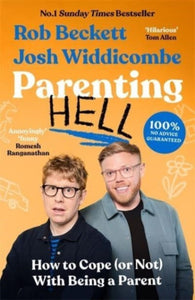 Parenting Hell : How to Cope (or Not) With Being a Parent
£999

£9.99
Tax included.
Shipping
calculated at checkout.
---
---
'What's it really like to be a parent? And how come no one ever warned Rob or Josh of the sleep depriving, sick-covering, tear-inducing, snot-wiping, 4am-relationship-straining brutality of it all?
Filled with all the things they never tell you at antenatal classes, Parenting Hell is a beguiling mixture of humour and conversation from the hosts of the no.1 smash hit podcast (but this time, their wives and parents get a say too). Unlike those who might pretend to have it all together, Rob and Josh comfortably discuss the highs and lows of parenting. Whether it's moments of unmatched euphoric joy or realising you took going to the toilet in peace for granted, this book is a reminder that everyone figures it out along the way.

This edition is updated with bonus parenting 'tips' from Rob and Josh. 
Author: Rob Beckett & Josh Widdicombe 
Paperback: 320 pages
Published: 25 May 2023