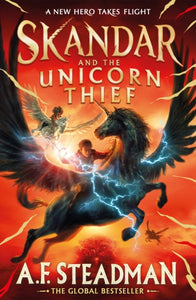 Skandar and the Unicorn Thief : The major new hit fantasy series : 1
£799

£7.99
Tax included.
Shipping
calculated at checkout.
---
---
WINNER OF THE CHILDRENS FICTION CATEGORY - INDIE BOOK AWARDS 2023 
To be one of the lucky few selected to hatch a unicorn. To bond with it for life; to train together and race for glory; to be a hero.

But just as Skandar's dream is about to come true, things start to take a more dangerous turn than he could ever have imagined. A dark and twisted enemy has stolen the Island's most powerful unicorn - and as the threat grows ever closer, Skandar discovers a secret that could blow apart his world forever . . .
Get ready for unlikely HEROES, elemental MAGIC, sky battles, ancient secrets, nail-biting races and FEROCIOUS UNICORNS, in this EPIC ADVENTURE series that will have your heart soaring. THE EPIC ADVENTURE CONTINUES . . .

Author(s): Steadman, A.F.,
Binding: Paperback,
Date of Publication: 02/02/2023,
Pagination: 400 pages,
Series: Skandar,
Imprint: Simon & Schuster Ltd,
Published By: Simon & Schuster Ltd,
Book Classification: Children's, young adult & educational,
ISBN13\EAN\SKU: 9781398502734