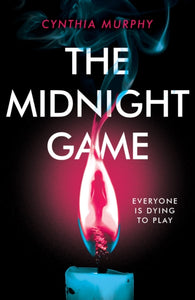 The Midnight Game
£899

£8.99
Tax included.
Shipping
calculated at checkout.
---
---
**Manchester based author**
Rules of The Midnight Game: Do not turn on the lights. Do not go to sleep. Do not leave the building.

When a group who have met on a creepy Deddit thread decide to meet in real life, they only have one plan in mind: they are going to summon the Midnight Man. And once you start the Midnight Game, you must finish it - there's no other way out! Six strangers. One night.

But how many survivors? From thriller-horror YA queen, Cynthia Murphy, author of Last One To Die and TIKTOK MADE ME BUY IT Win Lose Kill Die, comes her third nail-biting novel about CreepyPasta. Perfect for fans of Karen McManus, Kathryn Foxfield and slasher horror movies like Candyman. With six-character points-of-view, Deddit threads, newspaper articles and DMs, this pacy thriller will keep you awake and guessing until the very last page.
Author(s): Murphy, Cynthia,
Binding: Paperback,
Date of Publication: 05/01/2023,
Pagination: 400 pages,
Series: N/A,
Imprint: Scholastic,
Published By: Scholastic,
Book Classification: Fiction & related items,
ISBN13\EAN\SKU: 9780702318535